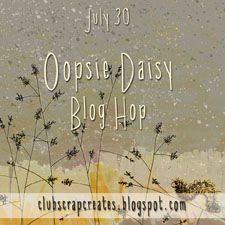 Welcome!  I am very excited to participate in this month's Club Scrap blog hop. If you arrived from Dishing with Janet then you are in the right spot.  If not, you might want to go to Club Scrap Creates and start at the beginning so you don't miss any of the crafty goodness being shared today! Well, let's go!  Leave a comment below and then be sure to sign up for a FREE spot in my Art Journal 101 Workshop! 
For this blog hop I decided to make a  painting.  I had something different in mind with more paper…but ended up needing to start over.  LOL!  I am finally discovering and embracing my style in painting…especially faces.  Therefore, I want to paint and draw them more and more and more.  Also, I will be exhibiting my art in public for the first time in less than two weeks.  So, the more I paint, the better.
Well, I am in LOVE with this kit and the daisies.  I am a little obsessed with the little daisy stamp it is just perfect!  Of course, I had to use it on my painting, along with a daisy I cut from the paper.  It was the perfect flair for her hair!
  Remember the fun doesn't have to stop here.
Remember to sign up for the FREE Express Yourself Art Journal Workshop .
And If you are looking for great layout ideas that you can complete quickly and beautifully, then you want to show up here Friday and every Friday for From Desk to Done.
I also encourage you to Embrace your art daily!  Grab our button and join in being creative every day.  Stop back on Monday, to see what other beautiful Mixed Media, I have created and leave a link to yours!
 Thanks so much for visiting.  
Next, stop along the hop is A Notebook Novel!  GO!
 Happy Crafting.
Embrace your art and free your soul,
Tiare.